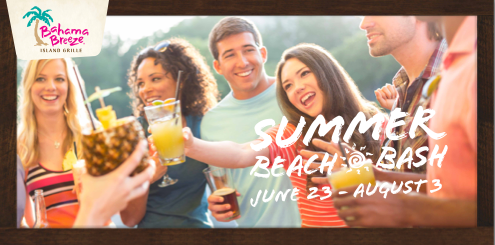 I recently got a fortune cookie fortune when I went out with my boyfriend to a local restaurant the other day that said, "
Need more relaxation or adventure in your life? Take a vacation.
" Quite condescending the way the cookie spoke to me really but not far off base.
I've been wanting to go on a vacation (preferably tropical) for over a year now but my lust for the sand, sun, and ocean have been, sadly, for not. At least not anytime soon.
While I don't have the money for a large and extravagant tropical vacation, I realized there could be other ways to satiate the tropical cravings I've been having for the past year-literally! Thanks to Bahama Breeze and their newest Summer promotion,
Bahama Breeze Summer Beach Bash
, you can have that tropical vacation without having to drive hours upon hours or purchase expensive plane tickets.
"
Bahama Breeze is the summer destination for good times
." Between the dates of June 23rd through August 3rd you can indulge that tropical itch with delicious Caribbean inspired cuisine, signature cocktail drinks, and the sounds of the islands at a Bahama Breeze near you!
Saturdays are really when things kick into high gear with live music bringing the sounds of the island to you for entertainment AND a mojito bar where you can choose your own fruit, rum, and watch your beautiful libation take shape right before your eyes.
Speaking of adult drinks, their newest signature cocktail has been unveiled and it's quite the delicious looking one! The not-to-be missed
Bahama Breeze Ultimate Pineapple
is bound to transport you to a tropical oasis with each sip you indulge in. The fact that it's also served in a fresh cut pineapple makes it all the more festive! Just take a look at how they're made...
If my post has inspired you to go tropical and enjoy Bahama Breeze's Summer Beach Bash promotion, don't forget their "Instagram Selfie Contest"!
All you have to do is share a creative selfie of you, your significant other, your friends, or your family enjoying your mini tropical getaway at the Summer Beach Bash and use the hashtag
#MyBBSelfie
and you'll be entered for a chance to win a $25 Bahama Breeze gift card!
If you're like me and crave the tropical without wanting (or having the ability) to spend the dough, look to see if you have a
Bahama Breeze Location
near you and take that mini getaway you've been wanting. With the food, cocktails, live entertainment, and chances to win, I have a feeling it'll be one of the best backyard getaway you've taken ;)